Earlier this year I presented the Overcome Social Anxiety treatment program to my colleagues in the Department of Psychiatry at the University of Oxford. One of the questions from the audience was: How do you diagnose social anxiety in order to treat individuals? My answer: I don't.
In the last blog I discussed the controversy around the new DSM-5. The goal of the DSM is to define the criteria for a formal diagnosis. In other words, it helps a practitioner determine whether or not person X has condition Y. I pointed out the shortcomings of this approach. In particular, the severity of a mental disorder is best measured using a continuous scale, rather than a binary classification.
A DSM diagnosis is important in a situation where a patient may be prescribed medication (recall that the DSM is published by the American Psychiatric Association). Most drugs have negative side effects, and they carry the risk of addiction. Therefore, taking medication for mild or moderate cases may not be a good idea. In this case, the DSM plays a vital role in determining who receives treatment. The DSM also plays a crucial role for clinical psychologists, as it guides the diagnosis and treatment of patients.
The situation for online self-help is different. For example, consider our Overcome Social Anxiety program. At the start of the program each user completes a series of standardized questionnaires (e.g. the "Fear of Negative Evaluation Scale" and the "Depression, Stress and Anxiety Scale"). The goal of this assessment is not a diagnosis. Rather, the goal is to determine where the user falls on the social anxiety spectrum prior to treatment. After the user completes the treatment program, they fill out the same questionnaires. The results are compared to the user's pre-treatment results to see if their symptoms have improved.
We don't require a diagnosis to use the program since people from along the whole social anxiety spectrum, from mild to severe, can benefit from treatment. The program uses online cognitive behavior therapy (CBT), which is known to be helpful in a wide range of cases. CBT involves revisiting thinking styles and behaviors. Unlike drugs, there are no negative side effects of CBT. Therefore, it can help everyone make better choices in their day to day life. This typically leads to an overall improvement in happiness and confidence, regardless of a DSM diagnosis.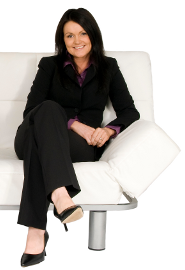 Fjola  Helgadottir, PhD, MClinPsych, is a clinical psychologist, a senior research clinician at the University of Oxford, and is a co-creator of AI-Therapy.com, an online CBT treatment program for overcoming social anxiety