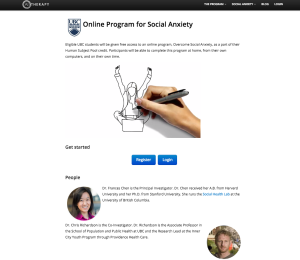 We are very pleased to announce our latest collaboration, which is with Dr. Frances Chen and Dr. Chris Richardson of the University of British Columbia (UBC). We will be evaluating AI-Therapy's cognitive behavior program within the university's undergraduate student population.
3 years ago I wrote about blog titled: "Is diagnosis necessary for online treatment?". My answer was no. I believe that anyone can benefit from CBT strategies, whether or not they have an official diagnosis. CBT helps people make better choices in their day to day lives, often leading to an overall improvement in happiness and confidence.
The UBC trial will provide the online social anxiety program to people who have elevated scores on social anxiety, not necessarily a social anxiety diagnosis. We are excited to see the outcome of this research.
Fjola  Helgadottir, PhD is a registered psychologist at the Vancouver CBT Centre, who has previously worked in Australia and at the University of Oxford in the United Kingdom. She is AI-Therapy's director and co-creator of AI-Therapy's Overcome Social Anxiety. Twitter: @drfjola