For my PhD I created an online social anxiety treatment for people who stutter or stammer. The results were fantastic. In fact, they were so good that Ross Menzies and I wanted to make the tool available for everyone with social anxiety, and that's how AI-Therapy was born.
AI-Therapy now has hundreds of users from all over the world, and our results (technically known as the program's "effect size") have been just as strong as the original PhD version. Actually, they are even more promising as they are now based on a larger population of users.
Statistics aside, it's also important to hear people's stories. Unfortunately, the nature of social anxiety makes it difficult for those who suffer to speak openly about the problems. Therefore, I was extremely excited to (quite randomly) come across the following article:
How cognitive behaviour therapy helped me
It was written by a user of my PhD program, and talks about the impact CBT has had on his life. I found it humbling that the program I created made such a difference to someone who has lived with social anxiety for over 70 years.
Here are a few quotes:
The programme was one of the great events of my life. It acknowledged that people who stammer often have undesirable thoughts and beliefs and I was shown how to change these. The results were immediate. The major item I picked up from the programme was the dropping of safety behaviours.
Shortly after the course finished I attended a dinner with 25 people. Normally this would involve the minimum of social conversation from me. On this occasion I made use of the techniques I had picked up and talked just about non-stop and on several occasions I was told to stop talking and eat as everyone was waiting for me to finish my meal so they could have the next course served.
Each conversation that I approach I now face with determination and courage. No longer do I stand back and rehearse what I am going to say before saying it. I have become very outspoken and have no problem at all in speaking up at meetings to add to the discussion. People I have met since completing the CBT programme have no idea that I stammer and when I tell them they are amazed by my story of how CBT changed my life.
I highly recommend you read his whole story. As I mentioned, AI-Therapy's Overcome Social Anxiety program has been enhanced to be suitable for anyone with social anxiety. I hope it continues to change lives.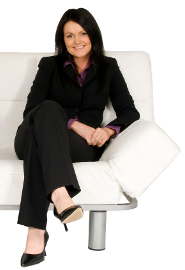 Fjola  Helgadottir, PhD, CPsychol, is a clinical psychologist, who has worked in Australia and at the University of Oxford in the United Kingdom. She is AI-Therapy's director and co-creator of AI-Therapy's Overcome Social Anxiety program and the creator of Overcome Fertility Stress. Twitter: @drfjola