BABCP Conference
On July 22nd I am will be speaking at the British CBT conference, which is being held in Birmingham this year. The topic of my symposium is one of my favorite subjects, and a common theme on this blog: safety behaviors. My co-speakers are Brynjar Halldorson, Kate Muse and Clare Mein, and we are very lucky to have two of world's leading experts on the subject as a discussant and chair: Paul Salkovskis and Freda MacManus.
Real-time audience responses
As part of our talk, we will be asking our audience questions to get their opinions on certain subjects. For example, here is a question that I will pose to the clinicans in the audience: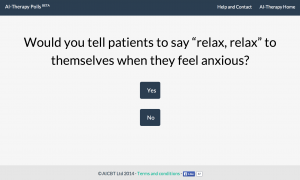 Our hope was that the audience would vote using their smartphones or tablets, and we would display the results in real-time as the votes are submitted. I spent some time searching for existing solutions, but everything I could find was either too difficult to use, too expensive, or required special software to be installed. Therefore, we decided to build our own polling service the way wanted it. It is simple and easy to use, and without any fancy bells and whistles. It is a great tool so we have decided to make it available to everyone for free.
Polls are a great way to spice up lectures or presentations. You can give it a try here:
Let us know what you think, and feel free to share the link with anyone who is looking for a real-time audience response system.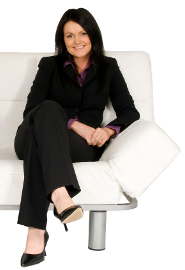 Fjola  Helgadottir, PhD, CPsychol, is a clinical psychologist, a senior research clinician at the University of Oxford, and is a co-creator of AI-Therapy.com, a developer of online CBT treatment programs.