Emma Watson did a wonderful speech for the UN recently, and if you haven't seen it yet you should really check it out:
She launched a campaign called "HeForShe", where men around the world are asked to join the gender equality agenda. The speech has gone viral (when I opened my Facebook this morning it seemed like half of my friends were raving about it). I came across some coverage of it with the headline "Her Voice Might Tremble, But Emma Watson's Message Is Strong and Clear." In my opinion, I found her voice to be very human and down to earth. I think her message was stronger because of this touch of tremble, which highlighted the fact that the speech wasn't easy for her. Remember, this is a famous actress whose career is performing. She was nervous because nobody feels confident all of the time, and stepping outside of our comfort zone is when we grow.
This made me think of social anxiety and how we treat it. Cognitive behavior therapy (CBT) for social anxiety challenges people by moving them out of their comfort zones. We learn the most when we "put ourselves out there". It is about experimenting with your thoughts and behaviors, and helping you live your life without fears.
I think a lot of social anxiety behavior in women is linked to gender equality. Sometimes we fear that by speaking our mind we will be labelled as "bossy", whereas a man in the same situation could be called a "leader". This is something we need to move past. For women, overcoming social anxiety can have a fantastic impact on their careers and self-confidence.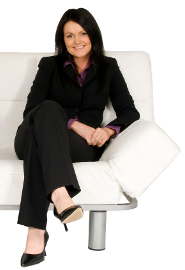 Fjola  Helgadottir, PhD, CPsychol, is a clinical psychologist, who has trained all over the world. She has worked in Australia and at the University of Oxford in the United Kingdom. She is AI-Therapy's director and co-creator of AI-Therapy's Overcome Social Anxiety program.