We have been a little quiet on the blogging and social media fronts over the past few months. This is because we've been working hard on our latest product: Overcome Fertility Stress. This is a program that is designed to help women cope with the emotional stress and anxiety the often accompanies trying to conceive. As with our other programs, Overcome Fertility Stress is online and fully automated.
Our goal is to make this the best program possible, so we've opened it up for free to everyone. We've already received a lot of great feedback which is helping us streamline the program.
One of the advantages of online programs is that the content can be updated and improved in real time (unlike books, which are frozen the second they are printed). Our Overcome Social Anxiety program has now helped hundreds of users tackle their social anxiety, and we've learned some valuable lessons along the way.
One thing we've learned is the importance of anonymity. Giving honest feedback can be hard in a time when everything seems to be linked to your Facebook profile. We've decided to go the opposite direction: when you sign up to the program you don't need to tell us your real name. We hope that this will encourage our users to be completely open, in a way that is difficult when speaking publicly.
If you would like to sign up, or find out more, please follow this link: Overcome Fertility Stress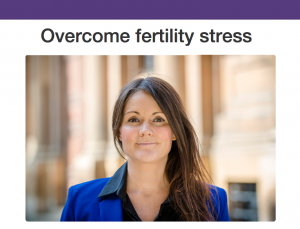 Also, if you know of anyone who might find the program useful, please share the link.