What is therapy or psychotherapy?
I'm often asked by friends, family, and people I meet, "what is therapy or psychotherapy?" so I figured it would make a worthwhile topic for a blog.

Psychological therapy, or psychotherapy, is probably one of the more misunderstood concepts around. Its popularity is evident by the vast amount of coverage it gets in popular movies and TV. As a clinical psychologist, I often cringe when watching "therapy" scenes in pop culture. For example, I watched the last episode of the 6th season of Dexter last night, where the therapist proposes an untrue/untested/completely-bullocks theory about how Debra Morgan must be in love with her brother! Fun twist for a TV show, but this theory is horrible PR for the field of evidence based clinical psychology.
This example from Dexter provides a great illustration of why a good therapist needs to be a good scientist too. Why should someone called a "therapist" have the authority to tell people things that aren't based on evidence? The expectation for professional standards for therapists should be no less than when you go to see your family doctor. You have the right to trust that your therapist is acting in your full interest, and acting in accordance with the latest scientific findings from clinical psychology research field. Sadly though, science isn't trendy.
Back to the original question, what is therapy or psychotherapy?
The first few sessions of therapy involve answering many questions, and filling out some standardised assessment questionnaires. Next, the psychologist uses their clinical knowledge and experience to determine what is the problem. If it is anxiety, the therapists figures out what type of anxiety one is experiencing. There are many different types of anxiety. For example, anxiety can be social anxiety, generalised anxiety, obsessive-compulsive symptoms, panic symptoms or phobias for almost anything under the sun. Each of these diagnoses need a specialised and tailored individualised treatment. Therefore, it is highly individualised what type of treatment one can receive under the general umbrella of "anxiety" or "worry problems". Once the therapist understands the problem and has prioritized what needs to be tackled, the actual therapy can commence.
Cognitive behaviour therapy (CBT) is the state-of-the-art therapy for many psychological problems. On average it takes 12-18 sessions, where a person meets with a therapist on a weekly basis. During this time, the therapist and the client work collaboratively on understanding the thoughts and behaviours that are contributing to everyday life problems.
This may sound straightforward, but it can be incredibly tricky to think about your own thinking, and understand your own behaviours, as well as the functions they serve. You learn to assess objectively what happens in every day life, and learn to tackle these using cognitive behaviour therapy strategies. In general, this leads to a more emotionally balanced lifestyle. The great thing about this type of therapy is that if it is done well, there are no side effects, and it continues to be effective in the long run. However, as opposed to many popular miracle cures popularised on TV and in movies, CBT takes work. However, as most people who receive the benefit from it will tell you, it is worth all the effort you put in.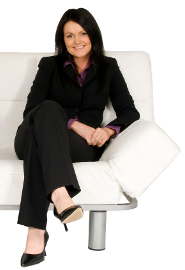 Fjola  Helgadottir, PhD, MClinPsych, is a clinical psychologist, a senior research clinician at the University of Oxford, and is a co-creator of AI-Therapy.com, an online CBT treatment program for overcoming social anxiety