In February 2012 the guardian published an interesting article. A nurse asked people who were dying about their top regrets in life, and what they would do differently if they had the opportunity to live again. The top five follow, along with some of my thoughts about how to avoid these regrets:
1. I wish I'd had the courage to live a life true to myself, not the life others expected of me.
How to avoid it: Figure out what you want from life. We all make choices about the type of lives we live. Listen to people in your life who can give you helpful and constructive advice, and ignore advice from family members or friends who think they know what you want.
2. I wish I hadn't worked so hard.
How to avoid it: Personally, I find this one difficult. On one hand, we all need to earn a living, and sometimes we need to put in long hours just to make ends meet. Also, when someone is running their own business, or does charitable work for the good of others, working hard can be very satisfying. However, in many cases, people work 50+ hours a week at jobs they don't enjoy, and their quality of life suffers. If you find you are in this situation, you should ask yourself why. Is it money? Status? The need to impress someone? Next, ask yourself if the long hours are actually helping you achieve this goal. Finally, ask yourself if you do achieve this goal, are you sure it will make you a happier person? When looked at it from this perspective, many people realise that no one is benefiting from time spent unnecessarily at work.
3. I wish I'd had the courage to express my feelings.
How to avoid it: This one is pretty straight forward, but also incredibly hard for those who have never expressed their true feelings.  Even though this might be very very difficult at first, it gets easier with practice. Take small steps, and in time anyone can gain the confidence to express them self.
4. I wished I had stayed in touch with my friends
How to avoid it: This is an interesting one. Obviously, the many of the people interviewed for the article mentioned above were from a different, pre-Internet, generation. One can't help but wonder if 40-years from now, will people at the end of their lives will still feel the same way? I suspect they will. In fact, some people today report feeling more disconnected from people in their lives than ever before. I like to call it the "Facebook effect".
When I was growing up I used to call my friends and family on a regular basis. Email largely replaced phone calls, but they were still genuine and full of unfiltered news and gossip. However, with Facebook I've noticed how easy it is to let a deep and meaningful relationship be reduced to the occasional Facebook "Like".  I bet I am not alone with this – Facebook makes it too easy to have superficial connections with people. Also, as fun as it is to get countless one-line birthday wishes on my Facebook wall, I do miss the personal emails and phone calls I used to get.
Anyway, the point with this regret is to not rely on technology to keep you close to your friends. It takes a little more effort to pick up your phone, but at the end of your life I bet you'll be glad you did.
5. I wish that I had let myself be happier.
How to avoid it: We really have to take a stock every now and then and figure out what makes us happy. This sounds obvious, but without a conscious effort, this self-reflection does not always happen. Once we know what we like, make time for it, and stop worrying about what everyone else thinks. We only have one life, let's live it!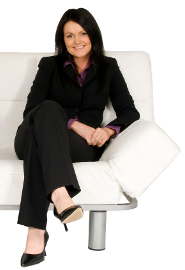 Fjola  Helgadottir, PhD, MClinPsych, is a clinical psychologist, a senior research clinician at the University of Oxford, and is a co-creator of AI-Therapy.com, an online CBT treatment program for overcoming social anxiety