Last week was an interesting one, to say the least. It seems like there was non-stop stories about the havoc in the White House. One story didn't get as much attention as the others (for obvious reasons), but it caught my eye because it made me think about cognitive behavior theory (CBT). I'm talking about Trump's theory that the body works like a battery. He believes that people have a fixed amount of energy for their whole life, so we should avoid exercise and not overexert ourselves. To back up his theory, he points to all of his friends who exercise and need to get hip replacements and other medical procedures. Trump believes this theory, and he "feels" it is correct. Therefore, he decides to not exercise himself.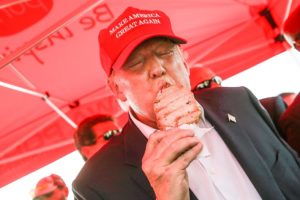 What does this have to do with CBT?
Post-event rumination is a central feature of social anxiety. This means that after a social event someone with social anxiety analyzes the interactions in detail to try figure out if they have done or said anything wrong. The problem with this approach is confirmation bias. If we try to uncover evidence for our "social errors" we will find it. This is not because something bad happened. Often we "feel" like we have said or done something that has upset someone. However, just because we feel or BELIEVE we have done this, it isn't necessarily true. We are looking for supporting evidence after the fact, just like Trump and his exercise theory.
Evidence, evidence, evidence
What can we do to help make better decisions in life? One of the key ideas behind CBT is to become an evidence based thinker. For the exercise theory, a single google search would find scientific articles contradicting the theory. We don't need to understand the importance of peer reviewed science to understand the many compelling arguments for cardio exercise, such as longevity, mental health etc. In some situations like this we need to trust our gut instincts less, and our brains more.
The same idea applies to looking at post-event rumination. Rumination can become a habit. One may believe it is a useful strategy to make sure they didn't "slip up" in a given situation. However, this is not productive, and we need to work out a way to limit the time spent ruminating after social situations. We have to understand that most of the time we simply have no idea what another person is thinking. In other words, when we feel they are thinking poorly of us, this is usually without any direct evidence.  It is just a product of our own minds, and is best ignored, just like Trumps theory on exercise!
Fjola  Helgadottir, PhD is a registered psychologist at the Vancouver CBT Centre, who has previously worked in Australia and at the University of Oxford in the United Kingdom. She is AI-Therapy's director and co-creator of AI-Therapy's Overcome Social Anxiety. Twitter: @drfjola